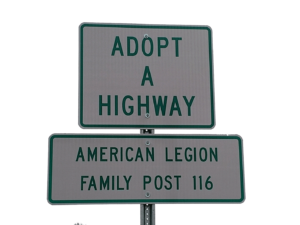 Community service is one of the hallmarks of the American Legion. To that end, Post 116 has decided to participate in the Adopt-A-Highway project of Highway 55. You can sign up to volunteer by contacting Callie Clark .
Information For Next Adopt-A-Highway Event:
Date : March 17th
Where to meet: Food Lion Parking Lot HWY 55
What Time: 10:00 AM – 12:00 PM
* Children 12 and under may not participate for safety precautions.